Oz Roof + Nexteel.
Between Revolution Roofing and its pre-painted steel supplier, Nexteel, you've got a powerhouse of form and superior colour performance.
The image shows a re-roof from Adelaide Roof Restoration Specialists, Oz Roof. Specialists in roof restorations, roof painting and re-roofing for residential properties, they have transformed this home owner's residence.
Originally a terracotta tile roof, it had, over the years, worn and started fretting. This led to many broken tiles and on-going leak issues for the home owner.
The team from Oz-Roof advised the home owner to undertake a full roof replacement with the Revolution Roofing True Oak Deep Superior Corrugated 21mm profile in a Woodland Grey finish, using a NextSTAR™ pre-painted steel.
In investing in a superior steel product (True Oak and Nexteel) the home owner enjoys the benefits now and into the future with the longer warranties.
Nice one!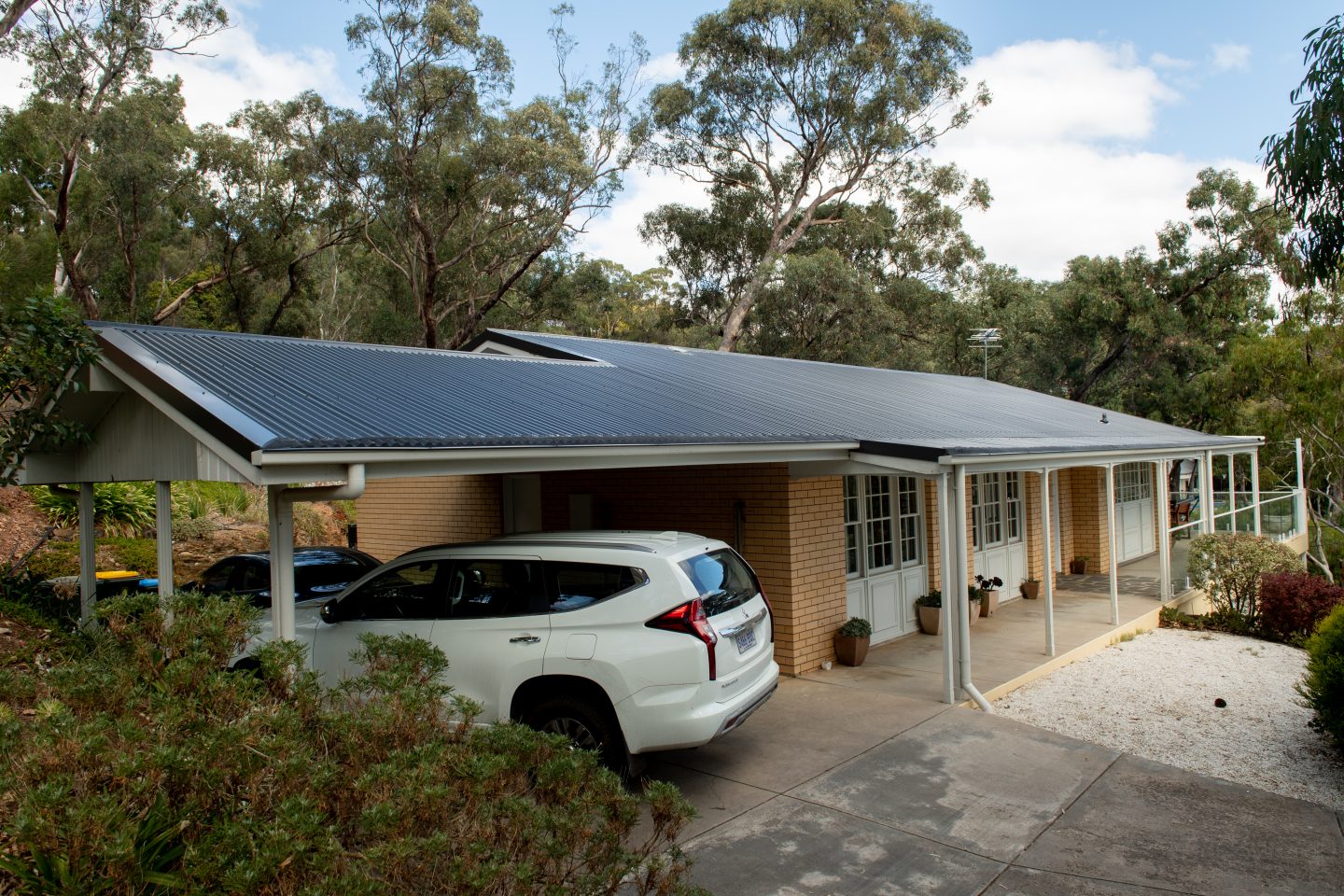 Pastel Series is launched!
Go hard with soft Pastels.
The NextSTAR™ Pastel Series is here! Developed over many months with much industry input, we're pleased to release the 12 colour palette of Pastels and not-so-Pastels.
These colours have been welcomed by specifiers for their versatility, sense of fun, and compatibility with other colours.
Use as a feature panel or go all out to turn heads.
Go to the colour page and request your free colour sample now!
Nexteel is colour!
Colour in Focus: Baldivis Senior High School, WA
This progressive high school wanted to create inspiring learning spaces for their students and this called for a new approach to not only the building shape but the colour.
The orange and yellow as seen in the images were made bespoke for the project.
Builder | Pact Construction
Architect | JCY
Custom Colour | Mandarin, Aztec Yellow
Rollformer | Revolution Roofing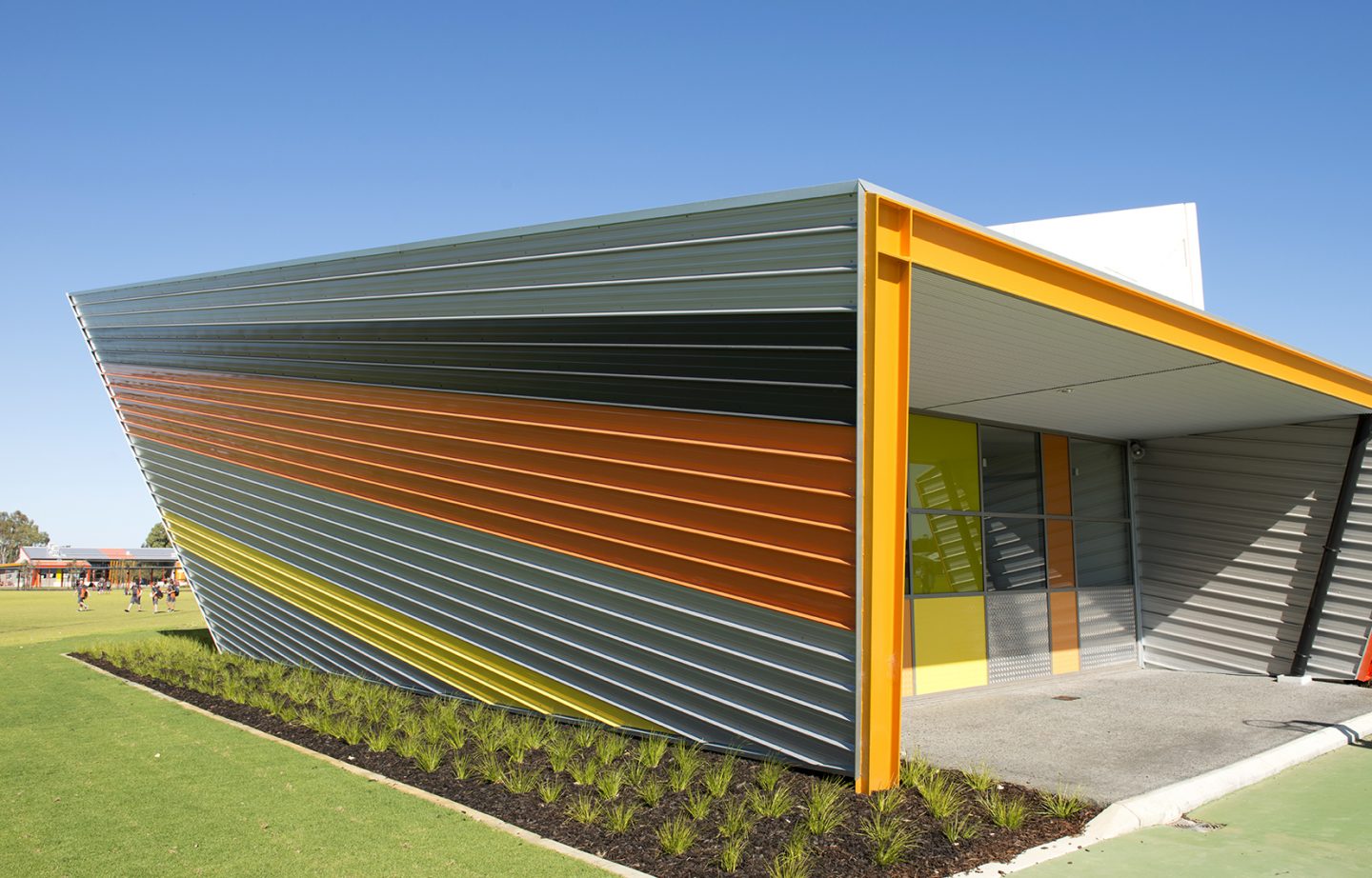 Nexteel News.
Nexteel News for February 2021. Good to see the new colours are being welcomed by specifiers and installers alike.
Featured colour is Freycinet™. NextSTAR™ Freycinet™ is the only high performing pre-painted steel sheet on the market which offers a full material warranty when installed as a Roof Sheet and a Wall Cladding. Whilst other products on the market can offer similar thermal values, they are not supported with a material warranty when used as a wall cladding.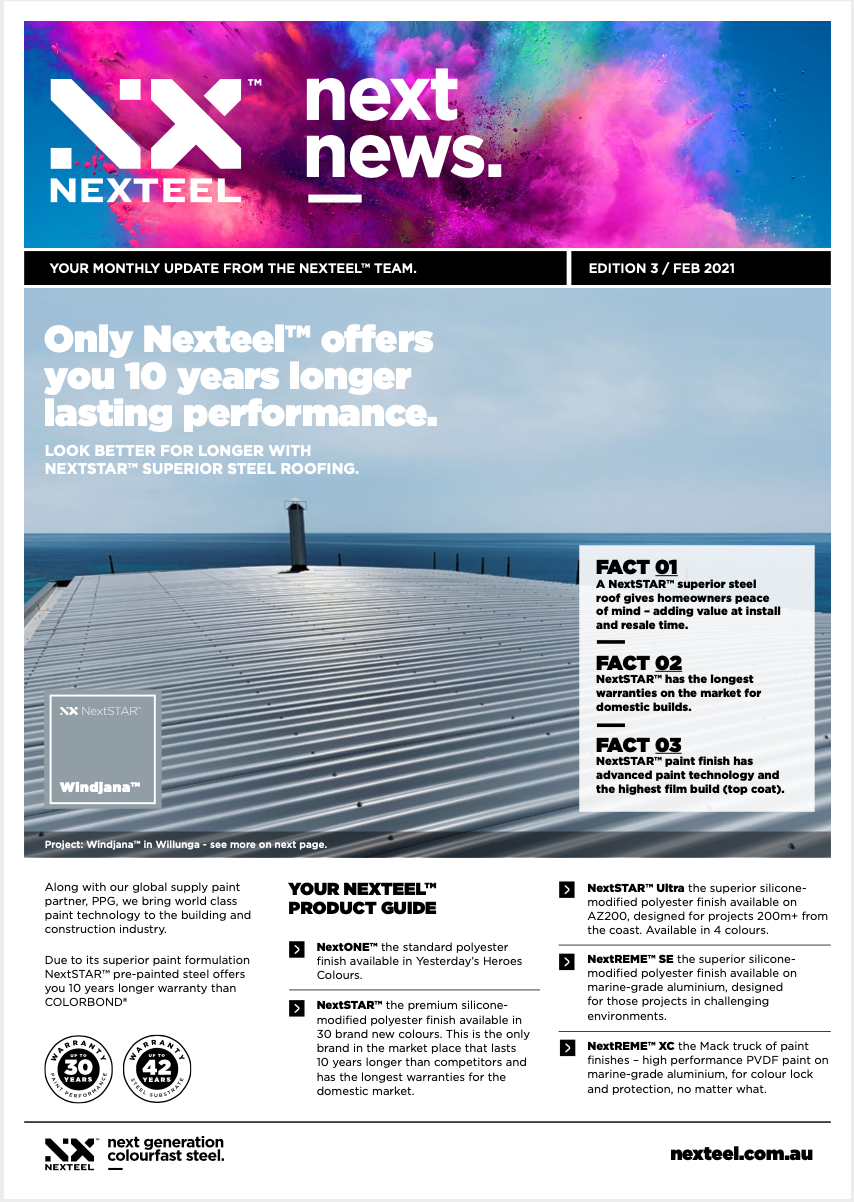 Mark Hardy talks Nexteel™.
As we release our premium paint finish NextSTAR™, Mark Hardy is the man to contact for more.
Read what he has to say about the pre painted steel industry in a recent Business News article.
Whilst respecting social distancing norms, give him a call on 0458 181 555 for an online or small (distanced) group presentation.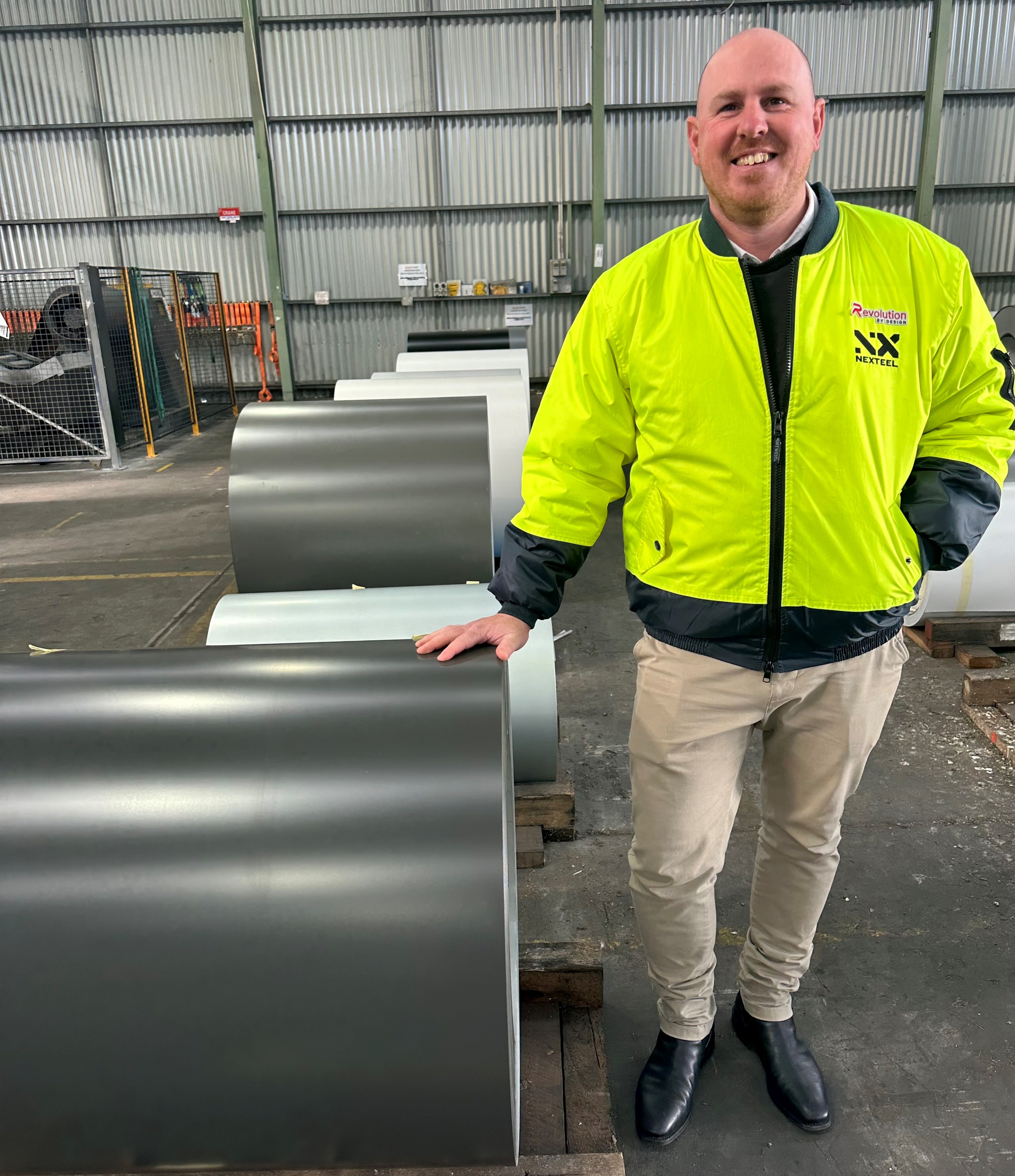 The McGoverns versus True Oak
Jeremy and Andrew McGovern tested the strength of the True Oak Superior Corrugated by Revolution Roofing.
True Oak and Nexteel, a great partnership.
Now available in 100% Nexteel.
Nexteel™ Adelaide Launch
Held over two days in October 2019, Nexteel™ launched at the Adelaide Entertainment Centre. Even though the name is new, this next generation painted steel line is brought to you by industry expert, John Easling. The launches were a seamless mix of product and entertainment, innovation and inspiration.
Special guest performances by The Angels and One Wild Night (Bon Jovi Tribute Band) made these two nights memorable.
Nexteel™ Perth Launch
Following the success of the Adelaide launches, Nexteel™ rolled into Perth Convention & Exhibition Centre for more spectacular light and music shows. Once again industry support was overwhelming. Innovation, choice and next generation thinking our promise to the built environment.